Regular price
€32,90 EUR
Sale price
€29,90 EUR
Unit price
per
Sale
Sold out
SUPER FAST CURING RESIN – Ideal for small arts, crafts and as top coat for any projects. This clear epoxy resin gives you an ultra-strong hold and high viscosity without smell, and a 8-10 hour cure time to support your design and artistic needs.
HEAT RESISTANT EPOXY RESIN - Once full cured, our crystal clear epoxy resin is resistant to scratches and heat up to 100°C. This resin is ideal as a top coat for coasters or any project that will have contact with heated objects
1:1 RATIO, EASY TO USE – Formulated with a hardener our resin epoxy boasts a 1:1 mix ratio and a pot life of 15 minutes. Warm up the bottles and workspace to 20-25°C. Measure one resin part and one hardener part into а mixing cup bу volume. Stir slowly for 3-4 minutes. Pour no more than 10 mm thick per layer
LONG-LASTING COLOR CLARITY – Our fast curing epoxy resin offers water, scratch and UV resistance that won't fade or discolor over time making it better for precision arts and crafts such as jewelry, painting, canvas, aquariums, coasters, and so much more. 100% compatible with RESIN4DECOR pearl powder pigments
NEW FORMULA: DEMOLD IN 4 HOURS – Do you want your artwork completed quickly? Only 4 hours demolding and 8-10 hours to full curing. RESIN4DECOR epoxy resin with hardener perfect to creative artwork for your house or as a gift for friends. Use only in a well-ventilated area, use gloves and a mask. Please read the user manual before using
TRUSTED QUALITY AND SUPPORT – European supplier with high quality customer service. We strive to do the best service and products for our customer. If you are not fully satisfied with our epoxy resin, please feel free to contact us. We will respond within 24 hours. We are ready by to assist you with any issues
Take DIY Projects and Arts and Crafts to a New Level with Premium-Grade Epoxy Resin from RESIN4DECOR.

When you're an artist who loves crafting jewelry, decorative lifelike scenery, or custom arts and crafts projects you know that the resin you use can make all the difference in the final outcome. That's why we created the best all-purpose resin for all your DIY designs. Introducing RESIN4DECOR Epoxy Resin, a premium high-gloss, clear-coat formula that adheres surfaces together more effectively, or coats your art more smoothly, while providing a crystal-clear surface that lets the art and color shine through.

- Kit options: 500ml (250ml Resin + 250ml Hardener), 1000ml (500ml Resin + 500ml Hardener), 3780ml (1890ml Resin + 1890ml Hardener), 7560ml (3780ml Resin + 3780ml Hardener)

Add a Touch of Color
As a clear gloss epoxy, you can easily add bold and vibrant pearl powder pigments to the solution to create a more customized look for your art project or creative outlet.

Indoor Safe Use
RESIN4DECOR epoxy is odorless and contains no VOCs which means you can use it on your projects indoors without any special ventilation. It's also 100% safe for kid's toys.

Versatile DIY Project Use
Our high-gloss two-part epoxy is non-toxic, non-flammable and nonylphenol free which means it can be used for a variety of different arts, crafts and DIY projects. Great ideas include drink coasters, homemade custom jewelry, canvas painting or aquarium repairs.

Consistent Curing Time
This professional-grade, high-viscosity epoxy resin dries seamlessly with no yellowing, discoloration, or bubbles. In fact, it can cure in just 10 to 12 hours based on ambient temperatures of 23-25C. The higher the temperature the faster the curing time.

100% Non-Yellowing, UV-Resistant Finish
Designed specifically for beginner and professional art projects and designs our epoxy cures crystal clear and super hard for UV, water and scratch resistance surface coverage.

Clear Gloss Coating
The best part of Resin4Decor casting epoxy resin is that it dries hard as a rock but provides a transparent finish that enhances colors or textures for optimized art styles.

Long-Lasting Resilience
Our casting epoxy is also stronger and more resilient than standard glues which means it can be used for table tops, bar surfaces, over wood finishes or sealing encapsulations.
Share
View full details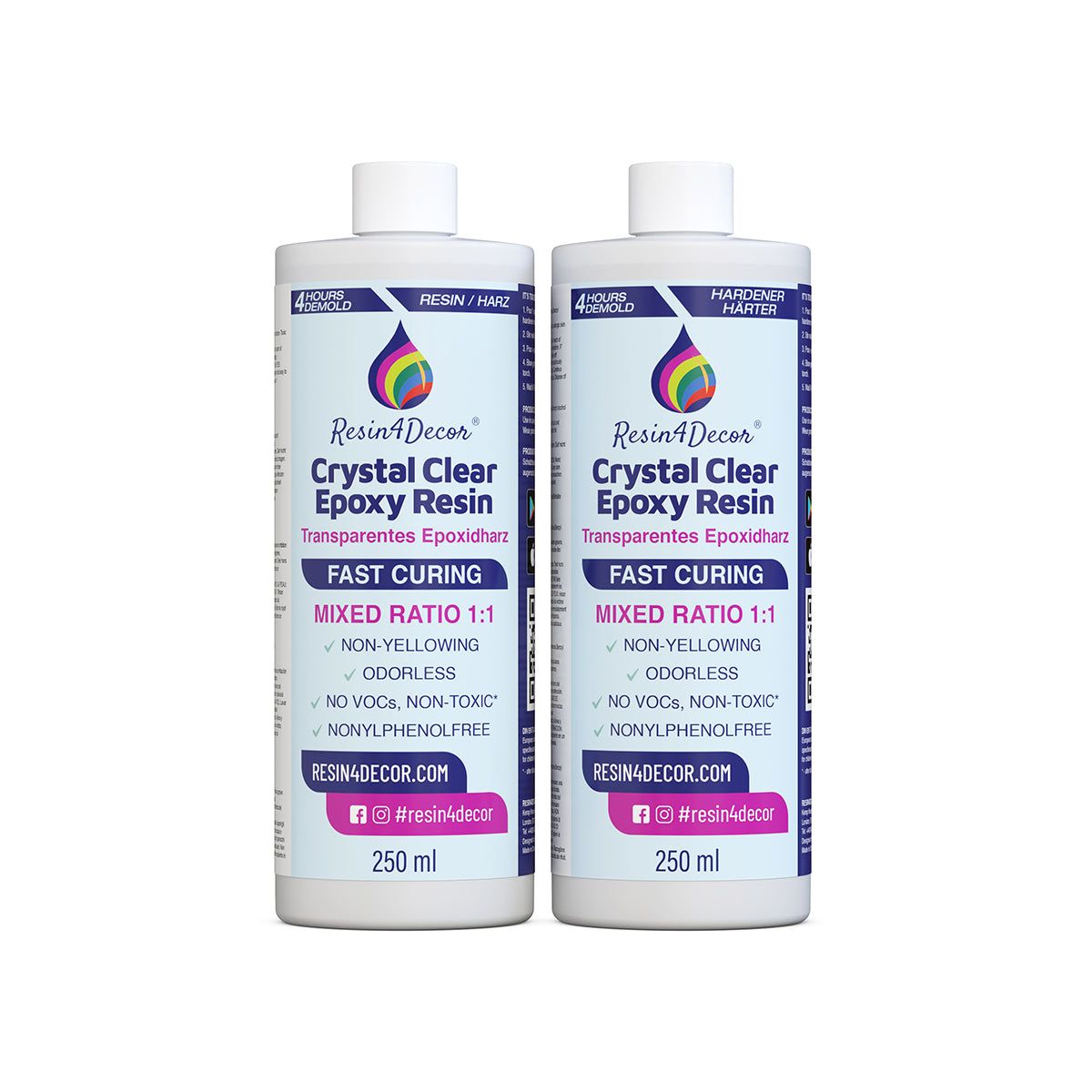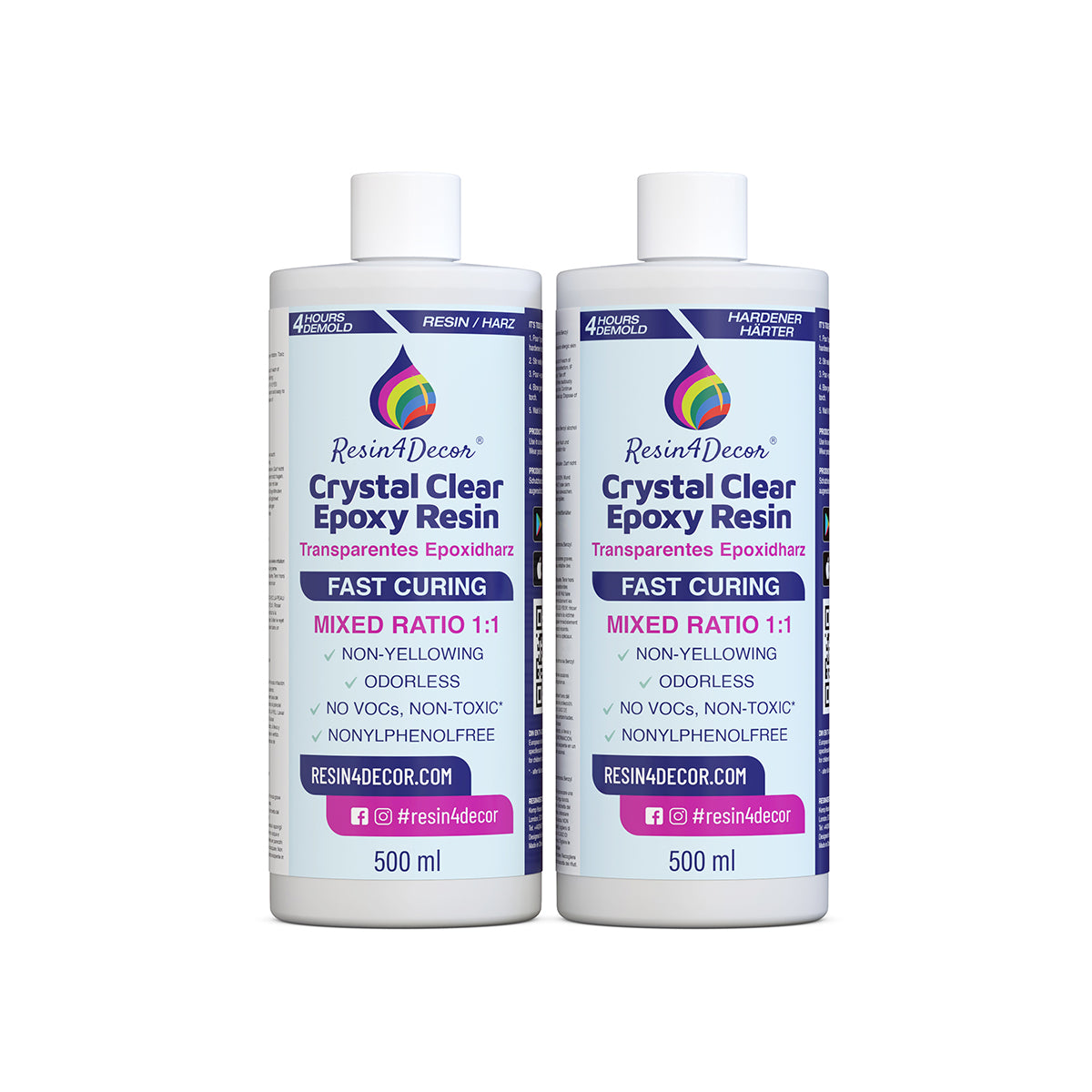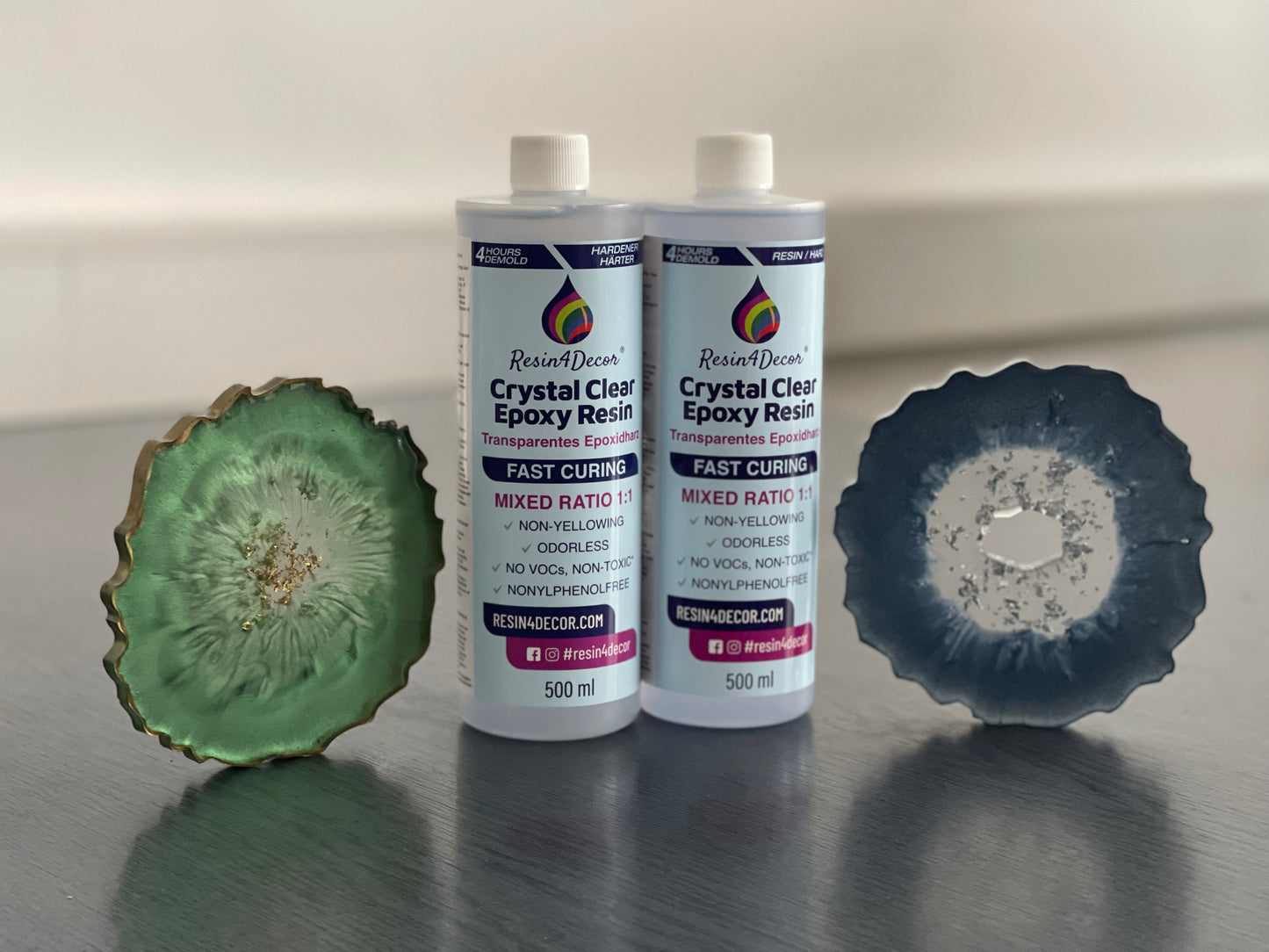 TRUSTED QUALITY AND SUPPORT

Feel free to contact us - We are ready to answer all your questions quickly and professionally

CONTACT US